Chestnut and cranberry loaf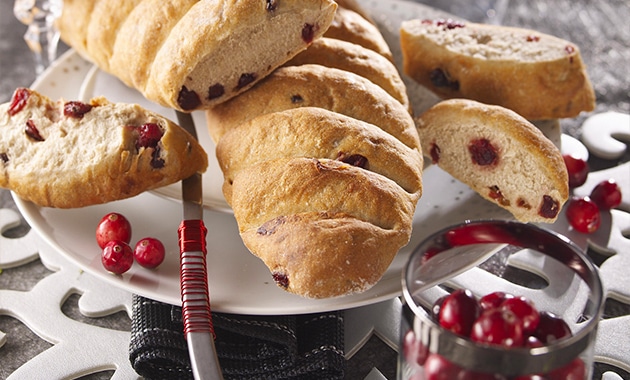 This sweet yet savoury bread will be delicious with cheese or toasted for breakfast!
1. In a bowl, mix the two flours and salt. Add the warm water and yeast.
2. Mix with a spatula for 2 minutes. Mix again until you have an even consistency.
3. Finish kneading with a rolling pin on your work surface. Your dough must be smooth and slightly elastic. Then incorporate the chestnuts and cranberries.
4. Form the dough into a ball and put it back in the bowl. Cover the bowl with a damp cloth and leave to rest in a warm place for 30 minutes.
5. Divide the dough into 3 equal parts and shape them into long loaves, then put them on a baking sheet, making sure they are at least 10cm apart.
6. Leave to rest under the damp cloth until they have doubled in volume (around 45 minutes). Score the top of the loaves using a knife.
7. Spray some water on the surface of the loaves. Bake for 14 to 15 minutes in an oven preheated to 220°C.