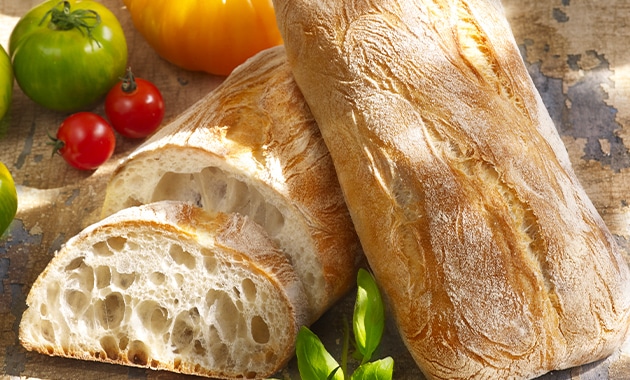 This white bread owes its name to its specific flat and oval shape – ciabatta means "slipper" in Italian. With this traditional bread, set sail for a fabulous culinary journey to the heart of Italy!
1. In a bowl, mix the flour, salt and oil together.
2. Mix the yeast into the water and add it to the bowl.
3. Knead until you have a dough with an even consistency.
4. Bring the dough into a ball, put it back in the bowl and cover with a cloth. Leave to rest in a warm place for 60 minutes.
5. Divide the ball into equal parts, each around 350g in weight, then cover and leave to rest for 10 minutes. Shape them into longer loaves using a rolling pin. Put them on a baking sheet, cover and leave to rest for 60 minutes.
6. Brush your loaves with olive oil. Bake for 25 minutes in an oven preheated to 220°C.