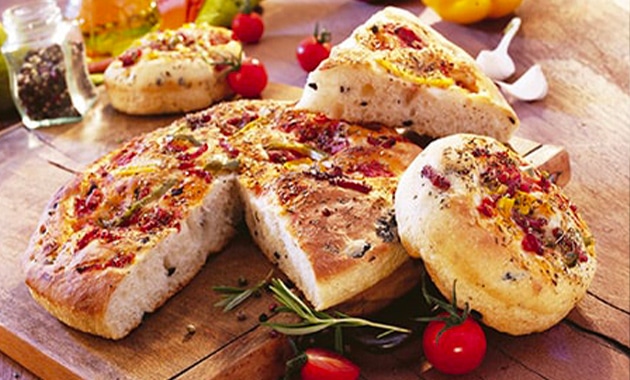 A very soft bread from the Liguria region of Italy, focaccia is a bit like a thick-crust pizza and can be eaten as a sandwich or an aperitif. 
1. Mix all the ingredients together in a bowl. Knead together until you have an even consistency.
2. Leave the dough to rest for 30 minutes and cover with a damp cloth.
3. Spread out the dough and leave to rest for another 30 minutes.
4. Mix 30ml water, 100ml olive oil and 5g salt together, and brush some of this mixture on to the dough. Push your fingers through the dough to make numerous holes.
5. Leave to rest for 30 minutes.
6. Bake in the oven for 12 minutes at 220 °C.
You can add olives to the dough before baking for an original aperitif version!