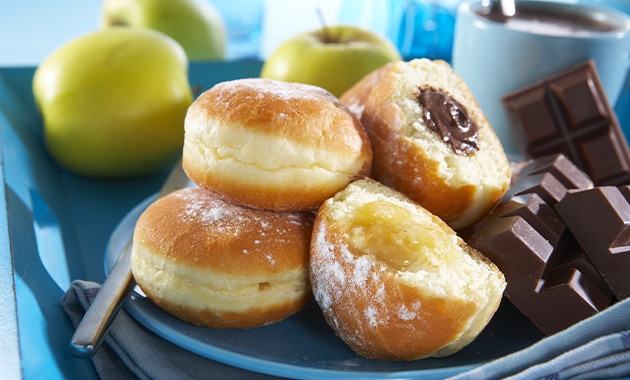 This apple donuts recipe is ideal as a snack for kids (and adults)!
1. Slice the apples and brown them in a pan with the sugar and 40g butter.
2. In a bowl, mix the flour, sugar and salt. Add the eggs, softened butter, warm milk and finally the yeast.
3. Knead until you have a smooth, slightly elastic dough.
4. Form the dough into a ball and put it back in the bowl. Cover with a cloth and leave to rest in a warm place for one hour until the dough has doubled in volume.
5. Roll the dough out with a rolling pin to around 4mm thick, and cut out discs with a diameter of 7 to 8cm. Please note: you will need an even number of discs.
6. Put a slice of apple in the centre of half of the discs and cover with the other half of the discs. Cover and leave to rest for around 40 minutes.
7. Cook the doughnuts in oil at 180°-190°C (Be careful with children!).
You can replace the apples with bananas. Donuts can also be filled with chocolate or jam: in this case, shape the dough into little balls (instead of discs), leave to rest and fill once cooked.