How to take good care of your refrigerator?
Just like the oven or the dough mixer, your refrigerator is one of your work tools and requires regular maintenance to ensure that it functions properly. From temperature control to defrosting, here are a few simple steps to take care of this vital link in the cold chain.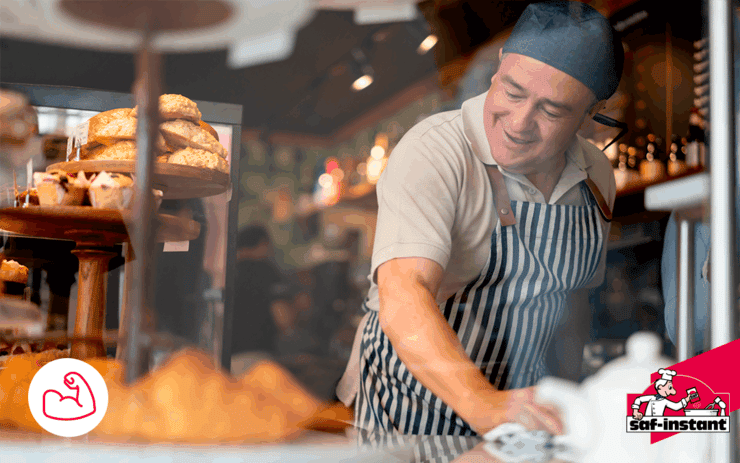 What are the components of a refrigerator?
Refrigerated cabinets are mostly made up of the following elements:
An airtight cabinet closed by a door, in which the food to be preserved is stored in compartments or on shelves.

A compressor, the "engine" of the refrigerator, located at the bottom rear.

A coil-shaped condenser located behind a grid on the back of the appliance.

An evaporator located at the top, inside the appliance.
Taking care of your appliance
The overall performance of your refrigerator depends on the good working order of these various elements, and therefore on regularly checking them. By properly maintaining your appliance, you minimise wear and tear and limit power losses, while avoiding excessive electricity consumption.
Remember to:
Clean the condenser with a soft brush or, better still, with a vacuum cleaner or blower. Dust quickly accumulates at the back of the appliance and can prevent it from operating properly. It is a common source of breakdown, but easy to avoid.

Check the condition of the evaporator inside. If it becomes covered with a thick layer of ice, defrosting may be necessary.
How often should you clean the inside of your fridge?
It's not always easy to clean a fridge that is often full. However, if you want to make the most of your refrigerator in the long term, it is recommended to clean it on a very regular basis:
Every week – check the inside temperature with the built-in gauge or a thermometer: it should be constant and average 4°C.

Twice a month – wash the inside of the refrigerator and the shelves with a suitable detergent or a white vinegar/lemon vinegar/water-based solution, then rinse and dry thoroughly.

Every three months – defrost your refrigerator (if it is a newer model, it may be equipped with automatic defrost). By defrosting your refrigerator, you optimise its performance and energy consumption:

Disconnect the fridge,

Empty it completely of its contents and shelves,

Position the drain hose in a basin or place cloths in front of the open door,

Wait until the ice inside has completely melted,

Reconnect the refrigerator.
Also remember to check…
The rubber seals at the door. Inspect them once a month to check their condition: a cracked or loose seal lets air through and tends to make your refrigerator work harder, thus consuming more electricity.

The drain. This small hole at the bottom of the appliance allows the removal of condensation or defrost water. When it is clogged, puddles can form and force your refrigerator to consume more electricity.