Za'atar puff pastry baguette recipe
Surprise your customers with this Za'atar puff pastry recipe! They will appreciate its unique aroma and distinctive flavour, delicious with salads or for making sandwiches.
The Za'atar puff pastry baguette is the result of blending 2 bread making techniques: the traditional bread baguette and puff pastry. The result is an original bread that is both crispy and soft, delicately spiced according to Middle Eastern traditions and contains little fat.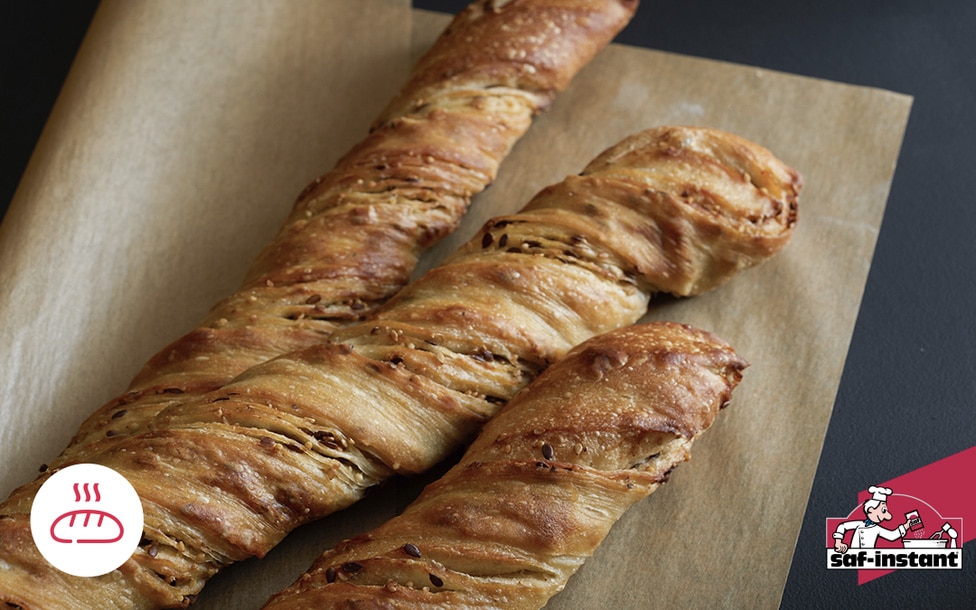 Weight

Percentage

Za'atar spice mixture
(45g thyme, 10g sumac, 45g toasted sesame seeds)
Type of dough mixer: Spiral
Kneading: 3 min at low speed + 5 min at high speed
Dough temperature: 26°C
First proving: 20 min.
Folding: Use fat at room temperature: it must be soft! Mix this fat with the Za'atar spice mixture. Shape the dough into a rectangle, place the fat mixture and Za'atar spice mixture on half of the dough and fold over. Fold twice.
Resting: 10 min at room temperature.
Division: With a knife, divide into strips measuring 3 cm wide. Twist and place on a baking sheet without holes.
Final proving: 30 min, ensure that final proving is not too hot: the fat must not melt!
Baking: 15min/250°C with steam